Nothing is nicer than off piste through these trees. Everything is natural in this run, from the rails to the starting gates. BTS has got some sweet photo opportunities and whats more an out of the way natural half pipe for when you just want to chill.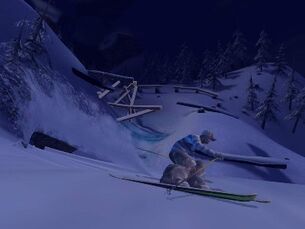 Collection Agency - Rookie
Snow Cop A-Go-Go - Rookie
Trick Off - Rookie
Anti-Air - Semi-Pro
Alpine Assault - Semi-Pro
Size Matters - Pro
Say No To Snow - Pro
Trick-Tastic - Pro-Master
Rail the Distance - Pro-Master
Medal EventsEdit
Back 2 Back Race - Rookie
Box Set Pipe - Semi-Pro
'45 Slopestyle - Pro
Double Race - Pro
Back-2-Back Pipe - Pro-Master
Ad blocker interference detected!
Wikia is a free-to-use site that makes money from advertising. We have a modified experience for viewers using ad blockers

Wikia is not accessible if you've made further modifications. Remove the custom ad blocker rule(s) and the page will load as expected.