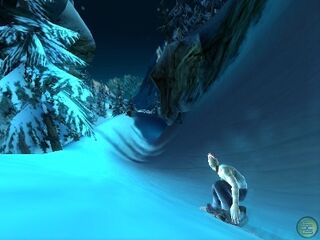 Half Banked is a track in SSX On Tour. Popular and tree filled, this semi pisted run has plenty of everything, including a sweet gap jump over a frozen waterfall. Just watch out, the ice melts at the half banked log, oh and those tree stumps halfway down can do you some serious injury. One mystery remains, where does the cave behind the start arena lead? Is it where the Yeti lives?
Shreds

Airtime Anonymous - Novice
Alpine Assault - Novice
Trick-Tastic - Rookie
Monster Mayhem - Rookie
Anti Air- Semi-Pro

Medal Events

Back-2-Back Slopestyle - Amateur
Double Race - Amateur
'45 Race - Rookie
'45 Slopestyle - Pro-Master
Ad blocker interference detected!
Wikia is a free-to-use site that makes money from advertising. We have a modified experience for viewers using ad blockers

Wikia is not accessible if you've made further modifications. Remove the custom ad blocker rule(s) and the page will load as expected.