A steep, tight and twisty couloir that open out through the logging yards. And when you think that the first section was insane you come across the cracking frozen lake. What's more we're not done yet, the final set piece of this run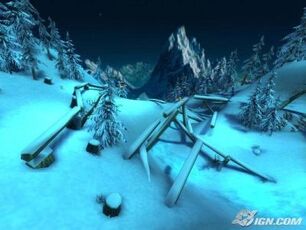 is the resorts biggest air, off a dam!
4 Jump - Rookie
Trick-Off - Rookie
Get Tricky - Semi-Pro
Collection Agency - Pro
Alpine Assault - Pro
Count Combo Sr. - Pro-Master
Size Matters - Pro-Master
Medal EventsEdit
Box Set Slopestyle - Semi-Pro
Double Slopestyle - Pro-Master
Big Race - Legend
Ad blocker interference detected!
Wikia is a free-to-use site that makes money from advertising. We have a modified experience for viewers using ad blockers

Wikia is not accessible if you've made further modifications. Remove the custom ad blocker rule(s) and the page will load as expected.