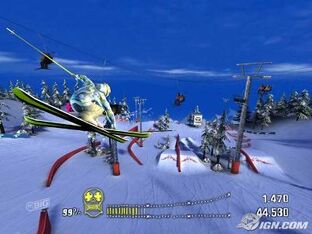 This run is as high as the lifts go. From here on up its heliskiing country. A combination of natural and man made make this wide run one that can be taken differently every time you go down. it's the base for both helicopters and piste bashers so look out for machinarty on the way down. The biggest challenge here is grinding the entirety of the run with out touching the snow. After all that hard work you might be thirsty, Luckily there is a bar placed right at the bottom.
Shreds

4 Jump - Amateur
Handplant Haven - Amateur
Get Tricky - Rookie
Rail This - Rookie
Airtime Anonymous - Semi-Pro
Trick-Tastic - Semi-Pro
Rail The Distance - Semi-Pro
Catch Up + Relish - Pro
Count Combo Sr. - Pro
Alpine Assault - Pro
Trick-Off - Pro
Anti-Air - Pro-Master
Say No To Snow - Pro-Master
Say No To Snow - Legend

Medal Events
'45 Slopestyle - Rookie
Back-2-Back Slopestyle - Semi Pro
Double Race - Semi Pro
Back-2-Back Race - Pro
Double Slopestyle - Pro-Master
Ad blocker interference detected!
Wikia is a free-to-use site that makes money from advertising. We have a modified experience for viewers using ad blockers

Wikia is not accessible if you've made further modifications. Remove the custom ad blocker rule(s) and the page will load as expected.