R & B is Peak 1's slope style event. It consist of three heats. In SSX 3, Peak 1 is tagged by Mac Fraser or when playing as himself, it's Griff Simmons.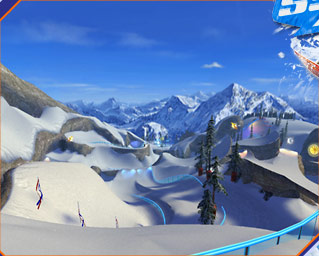 Challenges
Edit
Time Challenge
Edit
You can find this Big Challenge in the R&B section of Peak I. The object of this Big Challenge is exactly as the title states: a race to the bottom before the time limit expires on you. Just ignore most of the ramps, hitting this only to gain more boost power. Ignore a lot of the curving grind poles, as well.
Seek And Slide
Edit
You can find this Big Challenge in the R&B area of Peak I. What you're supposed to do on this Big Challenge is exactly as instructed in the game: you must grind any eight (8) objects of your affection. I suggest linking from pole to pole on the first grind pole that you spot in the distance. The difficulty will increase over the next several times you complete this mission.
Play Safe
Edit
This is one of the easier challenges to start out with, as you simply must not crash in this R&B Big Challenge event. Just take it as slow as possible to guarantee your safety on the course. Later on, more objectives will come into play, making this challenge a bit harder, but with a maxed out racer, you should be fine.
Right Rope Artist
Edit
Rounding out the Big Challenges on R&B is the Tight Rope Artist Big Challenge. Here, you will have to perform a series of moves and hit the grind poles as they are called to you, exactly like the Happiness Big Challenge where you had to perform the spins in mid-air ["Dizzy Spells"]. This is tough, and it will definitely get on your last nerve, but remember to time your jumps perfectly to lead your boarder from one grind pole to another with the trick in between. Good luck.
Quotes From Atomika
Edit
What's happen with the SSX circuit today? Slope-style is going ful tilt today up on Peak one's R&B. Spectators can check out the rails and quarter pipes that makes this course so famous - and competitors, so cautious. Check back for more, here on Radio Big.